We Turn Towards an Ending and Pay Attention
VISUAL Carlow February 4-May 14 2023
This project looks closely at a rupture, the demolition of a church in Dublin, through an integrated set of forms– film, installation and research events.
While the cultural meaning of the end of this building has been marked by its community through ritual events, this project comes from a new materialist perspective, drawing attention to the life of the fabric of the church. Produced in collaboration with architectural historian Ellen Rowley, the film points to questions of sustainability in architecture such as counting the embodied energy of this church. Tracing how materials were financed, grown and crafted, the project will provide scope for audiences to reflect on the life of the building itself, socially, culturally, and environmentally.
This is a collaborative project led by Fiona Hallinan.
Text from the website of VISUAL Carlow:
<<
Once the second-largest Catholic church in Ireland, the Church of the Annunciation was demolished in 2021 and will make way for a smaller church in the same location.
This project raises questions on the evolution and change that has occurred in Ireland in the decades since the church was built in the late 1960s. As well as declining attendance figures, the Catholic Church has lost some of its primacy in the minds and daily lives of Irish people. Though these changes have come with attendant social progress when it comes to the rights of women, LGBTQ+ people, and the wider social structure of Irish society, this change is not a straightforward cause for celebration. The work, influenced by practices of mourning and of mediation, considers what is lost when communities lose a gathering place, and a space for communal experience and the rituals that mark the progress of life, whether cathartic or complicated in nature. Mediation in an artistic context means to interpret or facilitate conversation; in the context of dispute resolution it is used to explore underlying values and interests with a view to mitigate conflict or reach agreement.
In the film
Making Dust
we are confronted with the changes that the loss of the church has on the community of Finglas, but also Ireland's complicated relationship with architecture, materials, public buildings, planning and space. The Church of the Annunciation was a modernist landmark in Finglas, towering over the local landscape of housing estates and commercial enterprises, and seeming to embody the divide between everyday lived experience of the community, and the symbolic dominance of a church that possessed significant power in dictating the patterns of that experience. Through research by Ellen Rowley and voices of participants from the surrounding area, the film considers some of the ways in which the building has both influenced and been influenced by the community it was built to serve.
Alongside the film work, Hallinan has produced a major sculptural installation,
Fragment Meditation
. Comprising a table made of steel and concrete running the length of the main gallery space, it is a physical record of a building no longer existing. The sculpture has been made by incorporating rubble from the church into the fabric of the newly constituted concrete slabs, echoing both the material of the original building and its functionality. It is now a table designed to be used for gathering and exchange over the run of the exhibition. The sculpture will host a symposium and picnic exploring the mediation of this ending in May 2023, after which it will be dismantled and parts of it distributed to contributors to the project.
>>
As part of this exhibition, visitors were offered a nettle, yarrow and peppermint tea to fill their own bag with and take home.
Nettles represent new growth and re-generation, they come out first in early Spring, and offer nourishment for our bodies as well as for the soil in which they grow. They can flourish in multiple environments, including on broken ground. Consuming nettles has many positive benefits for our health, "the leaves contain Vitamins A, C, D, E, F, K and P, as well as B-complexes and relatively large amounts of the metals selenium, zinc, iron and magnesium"1. They are a galactogue, meaning they stimulate the production of breastmilk. While their stinng might be painful to touch, it is said to relieve arthritis and to produce serotonin, helping with anxiety, depression and fatigue. I've been told stories of people afflicted with joint pain taking a roll in the nettles and enjoying a stimulating recovery (or distraction).
1. Information gleaned from "
Urticaspp: Ordinary Plants with Extraordinary Properties
, Dorota Kregiel, Ewelina Pawlikowska, and Hubert Antolak*"
Project Credits

Film
Directed by Fiona Hallinan
Based on an essay by Ellen Rowley
Produced by Ellen Rowley, Fiona Hallinan and Kate Strain
Written by Ellen Rowley and the Department of Ultimology: Kate Strain and Fiona Hallinan
Edited by Michael Barwise
Cinematography Faolán Carey, Jamie Goldrick, Johnny Lyons, Francis O'Mahony and Tadhg O'Sullivan
Research by Ellen Rowley with additional research by Faolán Carey, Luke Corish and Fiona Hallinan
Sound design and sound mix by Brendan William Jenkinson
Composition by Davy Kehoe
Organ performance Davy Kehoe and Hannah Curtin
Soundscape by Davy Kehoe
Visual identity by Alex Synge
Grading by Michael Higgins
Photography by Faolán Carey
Supported by
aemi
Full credits in film
Table Credits
Consultation and fabrication support by Mollie Anna King
Table base fabrication Laurence O'Toole
Produced at
VISUAL
with the support of Anthony Walsh, Jimmy Snoddy and Tadhg McSweeney
Fragment collection by Eadaoin Healy, Ellen Rowley, Stephen Quinn, Fiona Hallinan and Luan Moira Fitzgerald
With support from
Cow House Studios
, Frank Abruzzese and Rosie O'Gorman
Overall Project
Supported by
VISUAL Centre for Contemporary Art

Curated by Benjamin Stafford
Mediation consultant Barry Edward Fitzgerald
Mentorship Kate Strain
Funded by
The Arts Council Visual Arts Project Award
Fragment Mediation
, 2023, a table made from pieces of the demolished church. Install photography by Ros Kavanagh.
Fragment Mediation
, 2023, a table made from pieces of the demolished church. Install photography by Ros Kavanagh.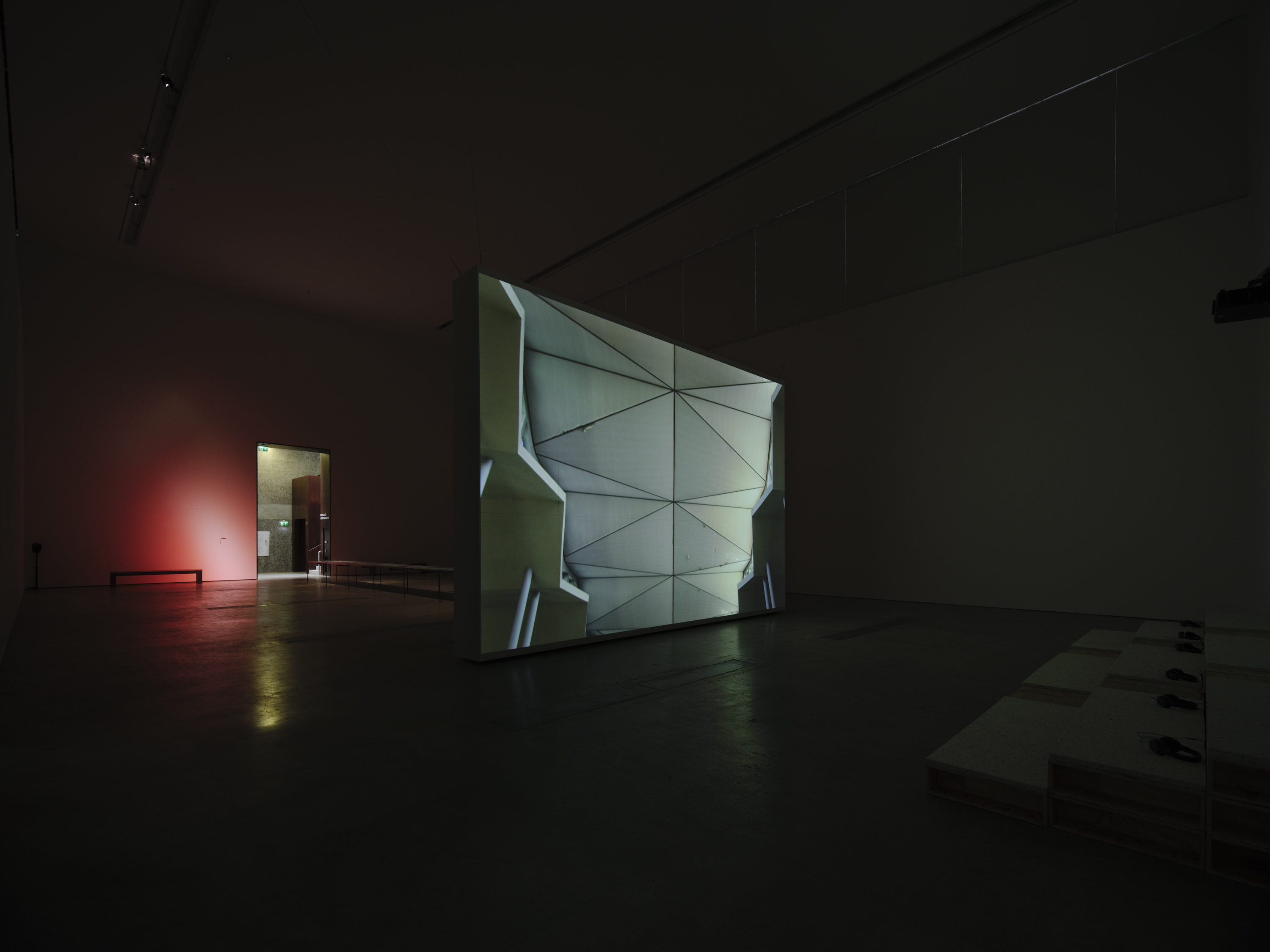 Making Dust
, film installation, 2023. Install photography by Ros Kavanagh.
A Window
, overhead projector, stained glass and rubble from site of demolition, copper wire. 2023 Install photography by Ros Kavanagh.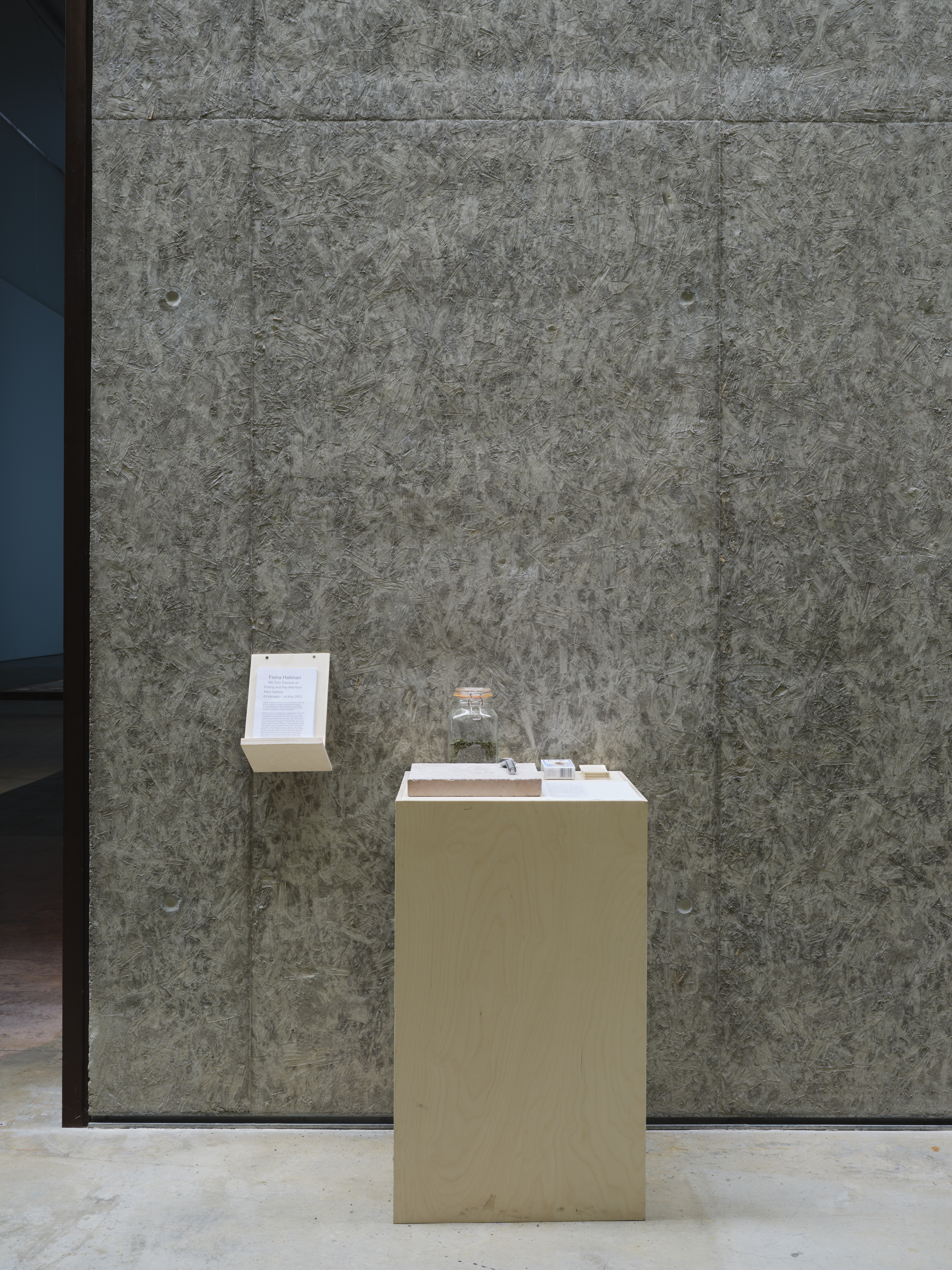 Nettle, yarrow and peppermint tea, install photography by Ros Kavanagh. 2023